whoa! united states of freedom!
I am in San Francisco with the crew and its all going well. I spent the night with Dieter in Altanta and was back out the next day for another 5 hours to the home of the Golden Gate Bridge. I met Caro, Ed, Jorge and Carolyn here yesterday and we have been having a ball.
We are staying down at fishermans wharf so theres seafood galore and the clam chowder served in a bread bowl was to die for.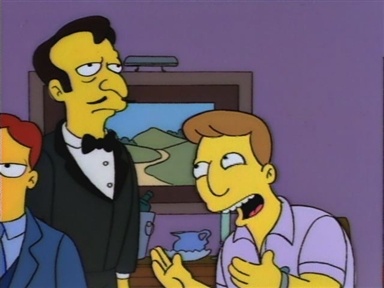 Say it Frenchie, say Chowder!
While the crew has a nice hotel I am board up at a hostel right on top of Fort Mason. Now a bad affair but its still a Hostel really, clearly I need to come to terms with the idea I am not the backpacker I once was.
Tonight everyone is going on a night tour of Alcatraz and theres no room left on the tour! noo! I even wrote a great email to the people but its fully booked. I now call them hourly asking if there is a dropout.
Dear Sir / Madam
I am an Australian guy who lives in Sweden with his girlfriend and got so sick of the winter cold and dark he decided to, on the spur of the moment (1 day), join his Aussie friends for a 2 weeks tour of the West Coast of your fine country. I am super pumped that I am doing something spontaneous and seizing the day as Robin Williams did teach us in Dead Poets Society. Anyway, while interesting I am sure you wonder why I am writing to you.
My friends have booked some weeks in advanced to do the night tour of your fine facility on the 18th of Jan at 4:20pm. Imagine my dissapointment after booking many plane flights and hotels to join my good friends to see that particular tour is booked out! Oh no!
So I wanted to write to you and ask in person, if there was any any way, if I am a very good boy, if there could be an extra spot on the 4:20pm tour on the 18th of January. While I would never think to offer monetary bribes, bribes of good feeling and good vibes surely must count for something. It would surely be an irony if somehow I was caught for bribery while arranging a tour to an ex prison. Oh no. Just my thanks and gratitude.
Id really love to join my friends on this trip and if there is any way I may join them, I would really appreciate it.
Thank you very much for your time and if you have a free moment, my adventures are chronicled at www.zezeran.com
Kind Regards
Louis Zezeran
Frisco rock on! Breakfast time, shaving time and then hot foot it into the city

View Larger Map
Louis Zezeran is an Australian Stand Up comedian and comedy promoter based in Tallinn, Estonia.

He was the co-founder of Comedy Estonia, Comedy Finland and Comedy Latvia. Louis writes, does gigs and performs at private events through the Baltics and Finland
Latest posts by Louis Zezeran (see all)
Other articles with bad grammar and poor spelling you might also find amusing